The basics
When? Saturday, 12th September, 12:30pm
Where? Adams Park
What? Championship matchday 1
Watch/listen: iFollow/BBC Three Counties
Setting the scene
Do you think the people at the back have heard him yet? If not, they soon will. When that whistle blows on Saturday lunchtime, Wycombe really will be IN the Championship. We – and Rotherham, for that matter – might have hoped to see the name of Derby or Nottingham Forest or Middlesbrough or Watford at the top of the fixture list when it dropped – but as the moment draws butterfly-inducingly close, the sense of occasion becomes as palpable as partridge shit underfoot in the terrace. We can't be there, but Wanderers the world over will be glued to their laptops and tablets and TVs – and, who knows, someone somewhere will probably be pumped enough to project it onto the front of the house – like they've not been since, well, 13th July.
In a way, though, it's apt that this should be the Saturday opener (Watford host Middlesbrough tonight): Rotherham were the other 'beneficiary' of the points per game system in League One, going up automatically ahead of us by 0.03 PPG. The perennial – and, it must be commended, sustainable – yo-yo-ers will be looking to make it stick in their third shot at the Championship in five seasons. We both deserve to be here and it's time to let the football do the talking.
We never got to play the 2019/20 home fixture against Rotherham – it could have been a pivotal game in the race for promotion – so this feels somewhat like the reverse of our make-them-sit-up-and-notice win at the New York Stadium last October – the game which brought out Gareth Ainsworth's 'inverted trapezium'. The stakes are probably higher now than they would have been back in April, though. At the outset of a campaign where survival is the aim for both sides, they don't come much bigger than a legitimate six-pointer.
[Extremely Heath Ledger Joker voice] And here we… Go.
The opposition
Overview
Manager: Paul Warne (appointed January 2017)
Top scorer 2019/20: Freddie Ladapo (RW) – 14
Most assists 2019/20: Ben Wiles (CM) – 5, Dan Barlaser* – 5
Style of play: Direct, relatively narrow in attack, set-piece specialists
2019/20 league position: 2nd in League One
*no longer at club
Keep an eye on… Jamal Blackman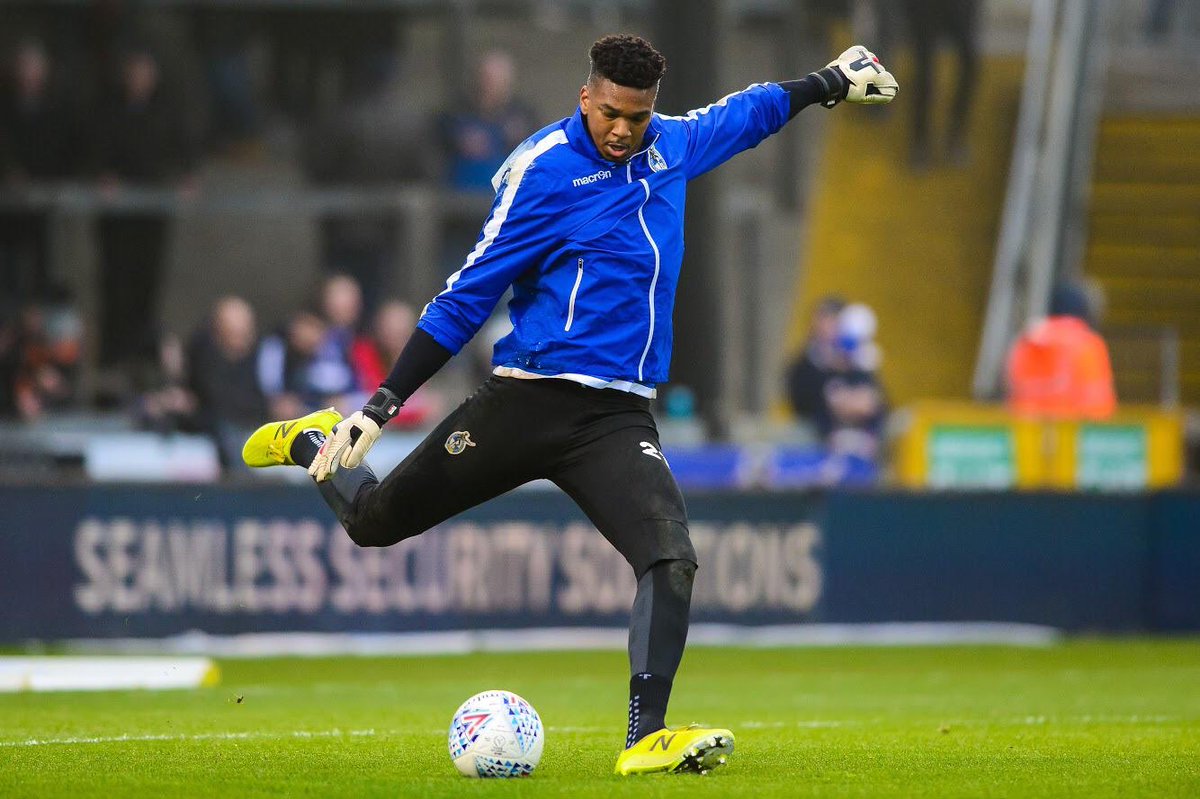 Twenty-seven next month, the former Wycombe loanee is in his eighth spell away from Chelsea – and his second** in the Championship, having spent 2017/18 with Sheffield United. A commanding presence with Inspector Gadget reach, he might also have a key say in matters down the other end due to his kicking: last season, he ranked as one of League One's most accurate 'keepers when it came to long balls – and he did so while playing for a Bristol Rovers side who weren't especially direct. Paul Warne's system – and disregard for the short goal-kick – should play right into his hands (well, feet).
**Blackman joined Leeds on loan for 2018/19 but suffered a broken leg before making an appearance, while he only featured in the League Cup while with Middlesbrough in 2014/15
Talking points
The return of the inverted trapezium?
Could we try it again? Yes. Could it work again? Maybe – Rotherham couldn't seem to figure out what we were doing as we left South Yorkshire with all three points after producing a dominant defensive masterclass. The full, original explainer is here, but it's basically an adpated 4-3-3: a 4-3-1-2/4-3-2-1 in possession and a 5-2-2-1/5-3-1-1 out of possession – the main use of which is to squeeze the space available in the advanced central areas Rotherham like to make use of, and to be able to drop a man back into defence (Curtis Thompson) without sacrificing one in midfield.
As you'd expect, they also advance the ball extremely quickly – only Gillingham and Wycombe progressed it quicker in League One last season.
Coincidentally, Dom Gape – who begins his three-match ban – was forced off injured at half-time in that game. He was replaced by Alex Pattison, so we have the personnel bar Rolando Aarons – but Fred Onyedinma or possibly Daryl Horgan could slot seamlessly into that link-up role. Anyway, let's see what geometric genius Gaz has up his sleeve…
Dethroning the set-piece kings and defending the castle
We might like to think this crown is ours, but we're barely Prince Harry compared to Rotherham. While these two teams finished last season way out in front in terms of the proportion of goals scored from set-pieces – Wycombe on 83% and Rotherham on 86% (Shrewsbury came next on 64%) – Rotherham created significantly better quality chances such situations (although in terms of overall shots from them, we took 5.3 per game to their 5.4). The Millers posted a comfortably league-high set-piece xG (SP xG) per game of 0.7 (43% of their overall xg); we posted 0.44 (40% of our overall xG), a little above the league average of 0.34. Wycombe scored 15 set-piece goals from a total SP xG of 14.8 and Rotherham 25 from 24.5 – only Lincoln, Tranmere and Shrewsbury were more efficient, and not by much.
How do you stop Rotherham from doing what they do so well? Well, if that were easy, they wouldn't have made it back to the Championship in the first place. What we do have going for us, though – and what was one of the keys to success in our last meeting – is that we defend our box like beavers, particularly in the face of aerial bombardment.
Looking beyond just dead balls for a moment, Rotherham atempted and completed an average of 27 and 7.5 crosses per game last season, both the most in the third tier by a reasonable amount – but they didn't record a single shot on target against us, mainly due to the bedrock of our defensive solidity: supreme focus and organisation, and a general undying determination to keep that ball out. In the 12 full games which the Grimmer-Stewart-Charles-Jacobson back four played together in 2019/10, we conceded just two goals from crossing situations (out of 11 in total) – one of which was Lincoln's highly controversial consolation when Matt Bloomfield lay badly hurt in the goalmouth, the other Paddy Madden's late equaliser at Fleetwood when driving rain turned the ball into a wet bar of soap and caused Ryan Allsop to fumble. There will be a battle in the skies over HP12, but we're well equipped for the fight.
Back on set-pieces specifically, though, we conceded only nine times from them last season (although there's already a 1 in that column for 2020/21…). That put us one above Rotherham and just below average for League One. The Millers do have the likes of target man Michael Smith and skipper and centre-back Richard Wood – who scored four and three headed goals respectively in 2019/20 – and Michael Ihiewke, Wood's central defensive partner, who won a quite staggering 74% of his aerial duels. Ryan Tafazolli would come in handy for this one, but Ainsworth is unlikely to make that change to the back four yet.
How are the legs?
On Sunday's evidence, you'd have to say ours are pretty good. Brentford may have been missing five first-team regulars, but they remained a strong side and the game wasn't played with the tepidness of a "branded friendly" like many the weekend's League Cup Round One ties were. We also executed a new, high press to great effect throughout, quickly identifying the soft spots and knowing exactly when to instigate it; on the whole, we looked fighting fit.
Rotherham also lost their tie on penalties, but their full-strength side only salvaged a 1-1 draw at League Two Salford with a fortunate 95th minute equaliser, despite dominating possession and shots. It would be naive to read too much into that result as it was their first competitive action in more than half a year – but the very fact that it was adds a unique level of intrigue to the opening day of the league season. Blackman, who hadn't played any proper football in just as long, looked clumsy in fouling Adam Rooney to give away a penalty, so perhaps there are still some cobwebs being shaken off – but the same could be said for Wycombe players who've seen little to no involvement over the past six months or so. As I say: intriguing.
Possible line-ups
Wycombe
If it is the standard 4-3-3 instead, Daryl Horgan could be handed his first Wanderers start on the right. Alex Pattison missed the trip to Brentford through illness but has been back in traning, as has Uche Ikpeazu after recovering from knock – we'll hope to our new number 9 see from the bench for his debut. That just leaves Adebayo Akinfenwa unavailable as he continues his recuperation from knee surgery.
Rotherham
This is the Rotherham 11 which started at Salford, with the exception of Matt Crooks, who came off the bench to equalise – he scored nine and assisted four in 33 games last season. Freddie Ladapo will play in the Championship for the first time after averaging a goal every 133 minutes in 2019/20. Creator and long range goal threat Kieran Sadlier, who was linked with a move to Adams Park earlier in the summer, also makes the step up following an impressive two years at Doncaster. Expect the wide men to get in close to the front two.
In the middle: James Linington
Championship seasons: 4
Last refereed Wycombe: Wycombe 1-2 Luton (League One, 16/09/17)
---
Header graphic: Dan Clark
---
Enjoy what you just read?